Years of experience and a large fleet of vessels mean that Northern Offshore Services are well placed, as leading operators in crew transport vessels (CTV) primarily in the offshore wind industry. David Kristensson, the CEO, got together with PES to catch us up on the latest developments and give us his outlook on the future.
PES: Welcome back to PES Wind magazine. Thanks for talking with us. For the benefit of our new readers would you like to begin by explaining a little about the background and experience of Northern Offshore Services and the importance of the wind industry to you?
David Kristensson: The background and the experience of Northern Offshore Services (N-O-S) is that we have roots in the shipping industry and come from a maritime culture. We have been working with shipping and vessels for generations and ten years ago we started a new company that has become Northern Offshore Services.
In this company our focus is the niche market in specialised shipping. Our biggest business is crew transfer vessels for offshore wind, so the wind industry, is of course, very important to us. Today, as one of the leading operators in this sector we operate approximately 40 vessels.
PES: Has there been much change in the market since we last spoke?
DK: Yes, there is more and more pressure from our customers to improve all our procedures and services. The customers are also more demanding, because they have learned more and know what they want. The competition is also very hard because there are more operators like ourselves.
What we are finding is complexity in the market and also in the project demands. The bigger the organisation and the bigger the fleet means better flexibility, to provide a good service to the customers. The projects vary and so you need to have different vessels to suit the operations and therefore a big and flexible fleet is a must.
PES: You also told us a little about your vision, BEST365, how do you feel this has impacted on the company and your customers?
DK: We work very hard with our vision and our values. I think it is something very strong in our company culture, where we all try to give that little bit more and be on our toes all the time – to give the best we can.
We work purposefully, in different ways, with the meaning of BEST365. All new employees have an introduction day where they learn what is expected of them. It means that all co-workers are pulling in the same direction.
PES: We are very interested in learning about the different services you offer, please could you tell us about them?
DK: Today we offer a wide range of different services and we are a big vessel operator. We own and operate most of the crew vessels in our fleet and we try to serve a specialised market.
We also have external customers now such as Ørsted and today we have the full technical management of their vessels. We also have a close co-operation with Fred Olsen Windcarrier. In fact, we operate both their vessels and try to develop new services and synergies between CTVs, with additional services. For example, oil exchange: we can supply technicians or additional services.
We also operate and own an ambulance vessel, research vessels and small tanker vessels, working in the recycling and the waste industry. We try to focus on renewables and also on recycling, as well as new energy. In the near future we will be able to offer consultancy solutions to the offshore wind service. What could be better than to operate and have more cooperation with the customers and the vessel owners and so on. Those are our main services.
Our sister company, Northern Energy & Supply, sells fuel and lubricants to the marine industry. They also provide ship supplies and logistics to the marine sector, in the Gothenburg/Skaw/Fredrikshavn area and can handle waste disposal, for example, slop/sludge. They operate a supply vessel, bunker barges, trucks and warehouses so they are able to handle the complete logistic chain for the marine industry.
PES: We would love to hear about any new additions to your fleet and how they enhance your solutions.
DK: The fleet is constantly growing, we took over seven vessels this year from Fred Olsen Windcarrier and started a close cooperation with them. It is very demanding, exciting and rewarding.
We are looking into the next generation crew vessels, how we should be prepared for the next series, which will follow our very popular D-series. Our customers like them very much and now we would like to expand and build further on this experience, as we have done previously.
Later this year, I'm confident we will announce a new series. Probably bigger crew vessels, with more flexibility to improve the solutions we provide, including a better and bigger platform to work from.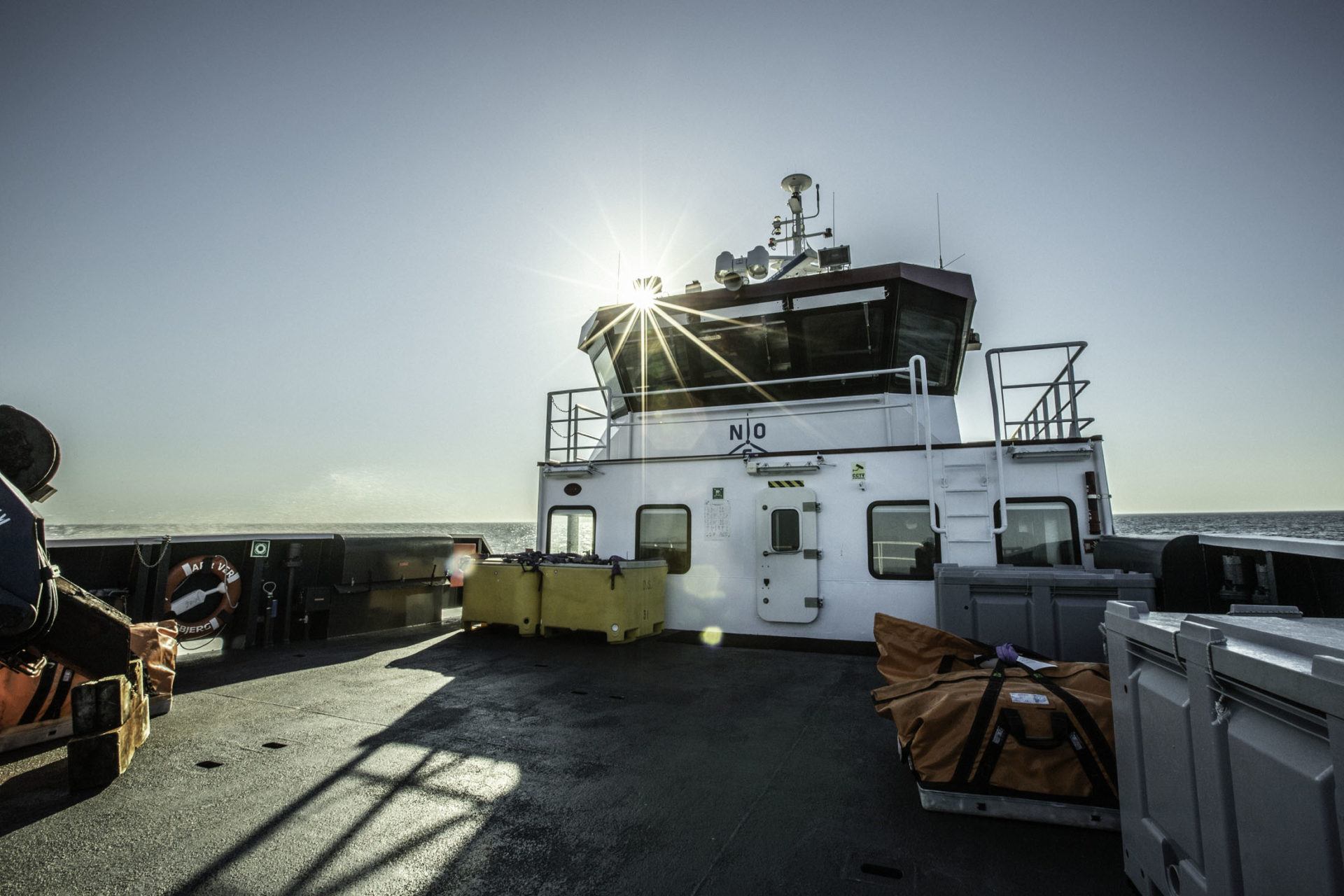 PES: We know N-O-S is an expanding company and that you are celebrating your 10th anniversary, to what do you attribute this growth and what makes you stand out from the competition?
DK: Yes, this is our 10th year and we are still growing. I think the biggest attribute to this growth and why we stand out, is because we always try to focus on the customer and try to solve their problems; they are our top priority.
We also aspire to a stable and state-of-the-art service, ensuring everything works. Everybody should be sure we are a reliable service provider, thus if they use N-O-S they know they will always get an excellent and flexible service. We always deliver what we promise.
PES: How does being efficient and flexible add value to your customers?
DK: Being efficient and flexible means we do our best to comply with the requests from the customer. Of course, there can be some very demanding situations and usually, because we have around 40 vessels we can oblige.
The mindset and the culture in the company means that all workers know our top priority is our customers. We try to ensure we have the right co-workers throughout the process and pride ourselves in the quality of our vessels.
When we build and operate vessels we do it efficiently. To us it is important to involve everybody from the office and crew, so we work together and work as a team.
PES: How has your collaboration with Fred. Olsen Windcarrier AS benefitted both your companies and the end user?
DK: It benefits us through many synergies being a big company with numerous service solutions. This means we are able to provide the customer with a broader palette of possibilities. In this way we hope to expand more outside Europe.
The fact that Fred Olsen chose us is also a validation of our work. Underlining the fact that we are doing a good job and are one of the best providers in the crew transfer vessel market.
PES: We were wondering if there have been any additions to your key markets and are there any other areas, geographically speaking, that you would like to break in to?
DK: Yes, we are very much looking to work world-wide. We are looking into the possibilities of working in Asia and the USA. Currently we are looking into the possibility of expanding outside of Europe. We have not set up any bases yet, but we are working locally to learn how and what needs to be done.
In Europe, we have offices in Denmark, UK, Germany and Sweden because we want to work more and more locally. Here in Europe there are definitely a lot of interesting opportunities ahead of us.
PES: What is the single biggest challenge facing the market today?
DK: I would say, it is of course, the oversupply of vessels. Now the customers are taking advantage of it to keep down the day rates. So today we are struggling.
In the future I think there will be other mergers and as a result, fewer operators. Our customers continually demand more and more from us all the time and therefore we need to deal with this reasonably and as effectively as possible – we need to work smarter.
PES: Looking ahead towards the end of 2018 and beyond, what trends and/or changes are you anticipating in the market and why?
DK: There will be new types of crew vessels and we will be very much at the forefront of this initiative. I also think there will be fewer, but bigger operators, offering more flexibility and providing customers with more types of vessels. Customers will be confident that we can supply exactly what is needed.
I think crew vessels will have a big role to play in the future because of their flexibility and the speeds that they can achieve. The whole logistic chain will become more streamline and efficient.
For the last 10 years we have been in the forefront, participating in the development of offshore wind and crew transfer and we will continue to be an active and innovative player in this exiting business. We have just begun.